Instrument Rental Overview
River City Music's instrument rental program is the perfect way to introduce yourself or your child to a world of creative expression through music. We offer the lowest rental fees in Vancouver, and a wide variety of instruments to fit your needs or specific playing style. We rent in multiple categories dependent on the condition of the instrument and we offer an optional maintenance coverage option on top of your rent to safeguard against potential damage it may receive through use.
Don't sign long contracts with other Music Stores! All of our rentals are billed on a month to month basis which allows you the flexibility to return or exchange your rental instrument at any time.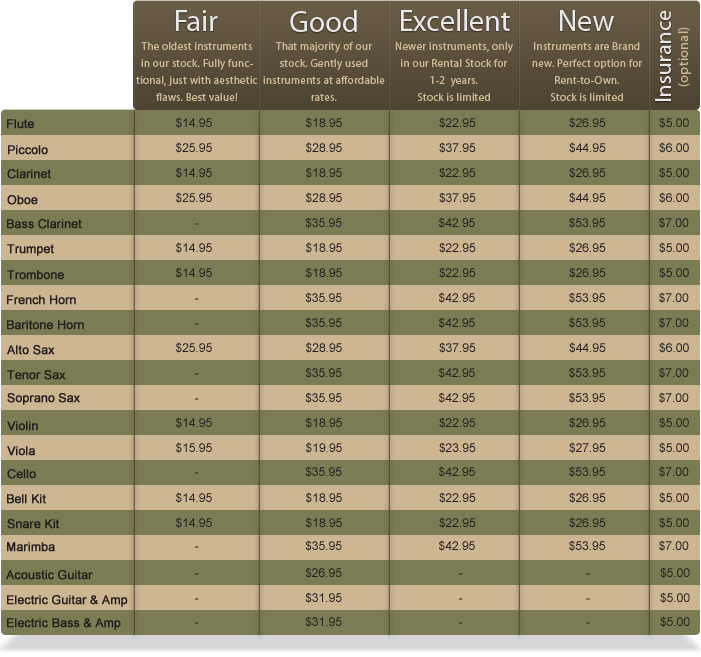 Rental Contract
Our Rental Contract is required for all Instrument Rentals. Print off our Rental Contract ahead of time. We also require a valid Washington Drivers License (or ID) and Credit Card for all rentals. Due to the unsecure nature of Debit Cards, they can be used to secure the instrument for an additional fee.
Click here to print our Rental Contract
Pricing
Rental Pricing is based on four categories: Fair, Good, Excellent, & New. All instruments are recieved 100% playable, after careful inspection and sanitation at our repair shop. Categories are based upon a number of factors including instruments age, time in circulation, and aesthetic appearance. Our rental instruments are affordable and the perfect route to go for your next rental. Pricing Does not include tax.
Rent-to-Own
If you have been renting an instrument for some time and are considering purchasing, River City Music offers you the ability to apply up to 12-months of your rental payments towards the purchase of a new instrument. Offer is restricted to Manufacture List Price and cannot be combined with other offers or discounts.
Insurance (Optional)
River City Music offers optional Insurance for all of their instruments. For an additional fee each month (varies amung instruments), the rental instrument will be covered in the event of theift, repair, or accidental damage.
For string instruments, insurance covers the cost of 2-string replacements throughout each year (12-months rental).
We've Gone Green!
For your convienience, in an attempt to reduce our paper consumption, all Instrument Rentals are priced for Automatic Deduction each month from your bank account or credit card. This significantly reduces our paper consumption. Paper Statements are available for an additional $1.00 /mo.
Search