Rental Programs

River City Music offers a wide variety of instruments available for rental.
Instrument Rentals
River City Music's instrument rental program is the perfect way to introduce yourself or your child to a world of creative expression through music. We offer the lowest rental fees in Vancouver, and a wide variety of instruments to fit your needs or specific playing style. We rent in multiple categories dependent on the condition of the instrument and we offer an optional maintenance coverage option on top of your rent to safeguard against potential damage it may receive through use.
Don't sign long contracts with other Music Stores! All of our rentals are billed on a month to month basis which allows you the flexibility to return or exchange your rental instrument at any time.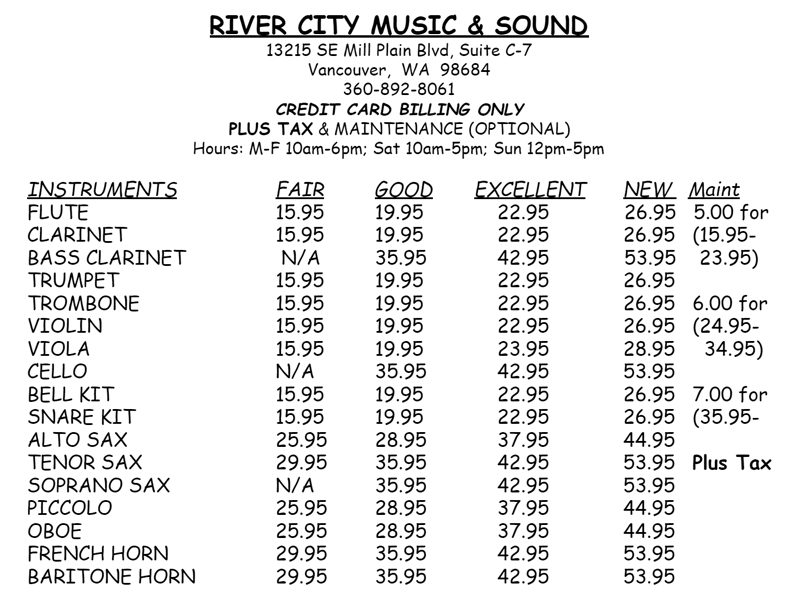 PA System Rentals
Need a PA System for your next event, or concert? River City Music offers affordable PA System rentals for daily use.
Standard PA Package includes:
Two (2) 15" Main Speakers
Power Amp / Mixer Combo
One (1) Microphone
All Necessary Cables
Not exactly what you are looking for? We can build other PA Packages that better suit your needs.
PA Rental Pricing
Standard PA Package: $100.00
Pricing is for the term of One (1) day (24-hours)
Valid Drivers License and Credit Card Required
Customer is responsible for pick-up and return
Delivery and other options are available upon request
Please call ahead to check availablity or to have us hold the system for a specific day.
Search