Repair Shop

River City Music offers a full-scale repair shop for musical instruments at the most affordable rates in town. We are proud to say that we have one of the best Instrument Repair Employees in Vancouver WA, Karl Koehler.When you are looking for dependable and trustworthy people, you come to River City Music. Stop by the store and check it out!
Repair Shop Hours
Our Repair Shop is open during the following Hours:
Monday - Thursday: 10:00am - 7:00pm
Friday: 10:00am - 6:00pm

Saturday - Sunday: Available for Drop-off
Instruments can be dropped off during regular store hours if the Repair Shop is closed.

Pricing
Pricing for Instrument Repair is not available online. Quotes can be given on-site after our Repair Shop can determine the extent of the damage and work required on a individual basis.

Guitar Repairs
Minimal Guitar Repairs (i.e. restring, action adjustment, cleaning, etc) can be done during normal store hours, 7-days a week.
Restring (includes cleaning, hydrating fretboard, full restring, and tuning):
Electric / Acoustic ($15; plus cost of strings)
Classical ($20; plus cost of strings)
Floyd Rose ($35; plus cost of strings)
Prices are subject to change depending on on-site review of the instrument and the work required.
Karl Koehler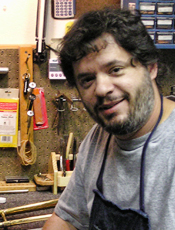 Karl Koehler recieved a Bachelor of Music Degree (Trumpet Performance) from Southwest Texas Start University at San Marcos, Texas. He later attended instrument repair school at Western Iowa Tech in Sioux City, Iowa. Prior to his 8-years at River City Music, he spent 13 Years in the Austin, TX area at a shop known for professional quality work and the handling of large school rental and repair accounts. Karl takes great passion in his work and looks foward to working with you on with all of your instrument repair needs.
Search